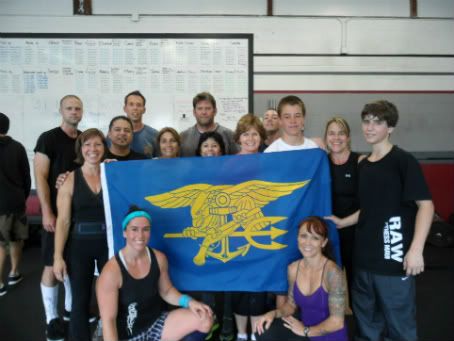 Thank you to everyone who came out today and participated in the 31 Heroes workout. We appreciate your support, effort and gesture. And a special thanks to Nancy Garrett for bringing it to us, and bringing coffee and snacks.
Workout:
"31Heroes" AMRAP 31 Min (As Many Reps As Possible) 8 Thrusters (155/105) 6 Rope Climbs (15 ft. ascent) 11 Box Jumps (30/24)
This is a Partner WOD – Partner #1 will perform the work listed above. Partner #2 will run 400m with a sandbag (45/25). Once Partner #2 returns from the run, Partner #1 will grab the sandbag and begin their 400m, while Partner #2 continues work wherever #1 left off.
Score – Total # of reps
THERE WILL ONLY BE 6-11AM CLASSES ON MONDAY, SEPTEMBER 5TH