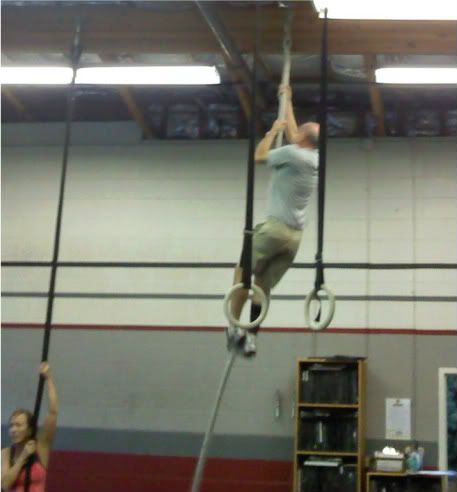 Adam Samuels scoring a rope climb for his team.
Workout:
Two teams: ½ team works at a time while other ½ rests, alternating within the team for AMRAP during each 2 min interval
Round 1: AMRAP 2min Team A – wallballs Team B – rope climbs
2min Team A -rope climbs Team B –wall balls REPEAT
All - 200m Run/jog
Round 2: AMRAP 2min Team A- Knees to elbow Team B – doubleunders
2min Team A- doubleunders Team B- knees to elbows REPEAT Score TOTAL REPS round 1 & 2 for the team
Programming: Helene
SPECIAL OLYMPIC LIFTING CLASSES THIS SATURDAY, OCTOBER 1ST WITH JOHN KAUPP (HE'S WORKED AND COACHED WITH MIKE BURGENER). HE WILL BE DOING SNATCH PRACTICE @ 8AM AND CLEAN AND JERK PRACTICE @ 9AM.