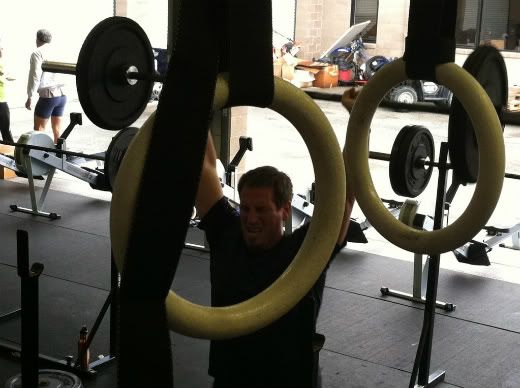 Partner workouts can be very challenging, especially if your working with someone who has been around a little longer. David got a little dose of that on Thursday, partnering up with Dwayne on a 20 minute AMRAP. David impressively hung tough the whole time, never quitting, all the way through to the last prowler push. Here he is mid-workout, getting put "through the ringer."
Workout:
Deadlift Cluster (from Crossfit Football)
Complete 25 Deadlifts at a percentage of your max.
Weight you chose should put you at 1-5 reps per set, no more than 5. Rest 30 seconds between sets. Go until you complete 25 deadlifts
then,
Partner Relay - 5 Rounds:
-Partner one completes an entire round, switch, and repeat for a total of 5 rounds each
.