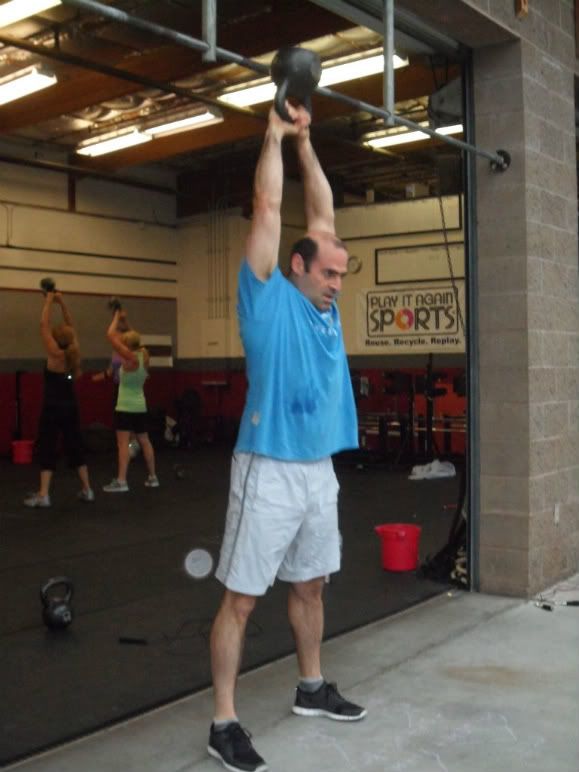 Human movement is all about your center of mass (COM). When lifting any weight the most ideal place for that weight to be is in line with your COM, which can also be thought of as your balance point. Any deviation away from the COM requires your muscles to do work to bring the weight back to where efficiency is obtainable. If you have ever done an overhead squat you can understand this concept. An overhead squat is all about keeping the weight directly over your COM, where it is balanced. If you let the weight get away from where it is in line with the COM, you'll have to do more work to get it back to the balance point. Rami shows this well at the top of his kettbbell swing, everyhting is in line and little work is being done to hold that position. Next time you are overhead squatting, think about that, is there a sweet spot you feel when you are squatting? If you feel it, stay there, you're in line.
Workout:
AMRAP 7min:
1 rope climb
5 burpees
10 wtd lunges (35/25)
20 double unders
2 rope climbs
10 burpees
15 wtd lunges
30 dbl unders
3 rope climbs
15 burpees
20 wtd lunges
40 dble unders
4 rope climbs
20 burpees
25 wtd lunges
50 dbl unders
Work through the above list until you run out of time on a 7 min. clock
Note where you finished in the list
Run 400m
Start where you finished and work backwards for time or 7min whichever is shorter
Programming: Helene
Let us know what you think. CFSCC would appreciate your input to develop our gym. Please take a few minutes to complete this 

SURVEY

.  Thank you!!

 
We are CLOSED for all classes on Saturday October 22nd