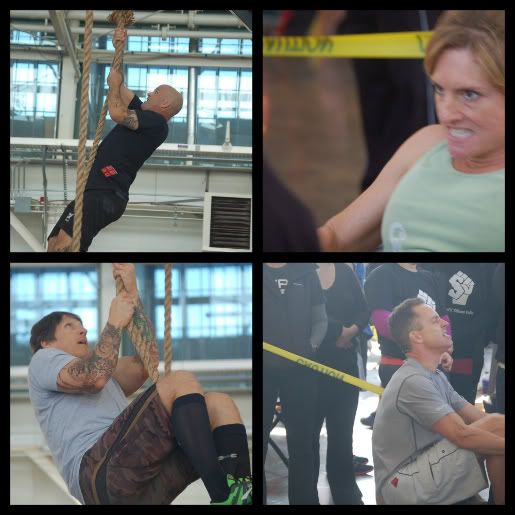 Today was the Norcal 40's competition at the Craneway Pavilion in Richmond California, and what an amazing day it was. CFSCC was exceptionally represented by Kimberly Saxton, Ted Shank, Scott Taylor and Skip Hanson. Our CFSCC representatives put forth tremendous efforts all day long, from 8a.m. to the last workout that finished around 6p.m. Kim winning the rope climb workout with 10 rope climbs in 4 minutes. Ted never forgetting about technique and form, snatching beautifully through workout #2. Scott taking 4th in the triplet event (the most "crossfit-esque" workout). And then there was Skip who stole the show with consistency, diligence and all out effort, a true competitor. Congratulations to you guys, thank you for representing CFSCC so well, you should be very proud! Go CFSCC!!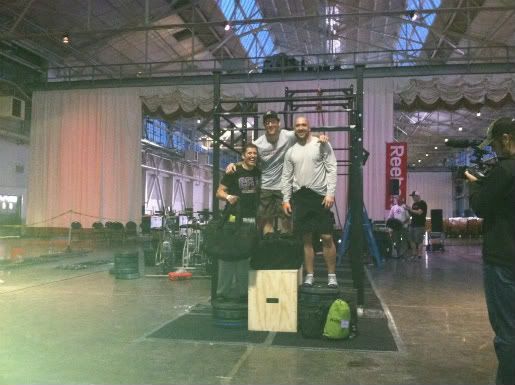 Workout:
Teams of 3 AMRAP 20 minutes: 5 Hang Power Snatch (65/95) 10 Ball Slams (14/20) 10 Wall Balls (4/20) Prowler/Static Hold (squat 1st 3 times through, Plank next 3, then back to static squats)
Once the team has all gone through the reps of HPS, ball slams, and wall balls, one person from each team pushes the prowler through a sinuous course while the other teammates hold a static squat.  Each time through, a different team member pushes the prowler while the other two hold the static squat.  After everyone has pushed the prowler once, the static squat becomes a plank hold for three rounds, then back to the static squat.
Programming: Josh