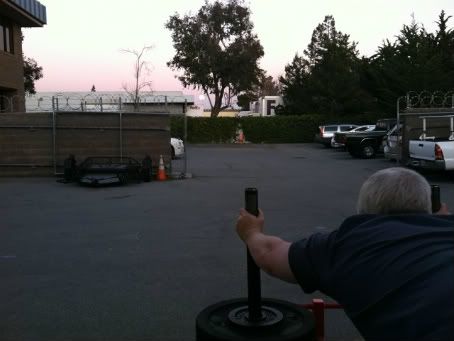 It can help to approach workouts and some lifts with this concept of finishing. The 800m run for example, run through the finish line. In the clean or snatch, do not "shortchange" the hips by not finishing your extension. At the end of a workout, leave it all on the table and finish strong, that's when it really counts. Do not ease up on the prowler when approaching the finish line, drive through it. Greg has the help of the moon here to shoot for, through the finish line.
Workout:
10 minute AMRAP:
Partner 1 runs 400m while partner 2 completes as many rope climbs as possible, switch and repeat for 10 minutes.  Score total rope climbs
Rest 2 minutes
1K row for time
10 pulls at a time.  Partner 1 pull 10 times while partner 2 completes 10 double unders.  Partner 2 cannot get back on rower until double unders are finished.  Switch back and forth until 1K is complete.
Rest 2 minutes
10 minute AMRAP:
Partner 1 runs 200m while partner 2 completes AMRAP of 10 DB Front Squat (25/35#) 5 push ups.  Partner 2 comes in and picks up where partner 1 left off, continue back and forth for total rounds in ten minutes.  Score rounds
Programming: Shari