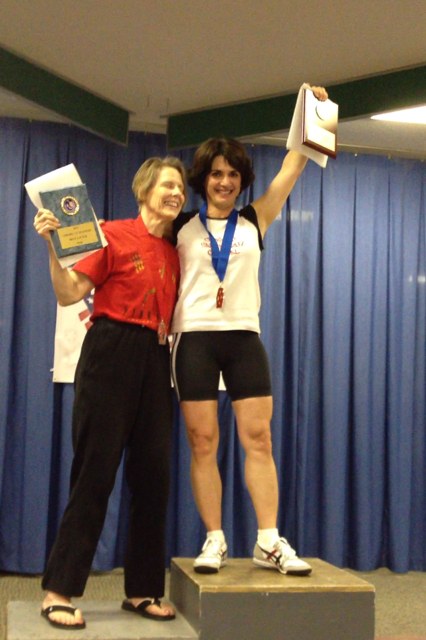 The object of an Olympic weightlifting competition is to get the most amount of weight (on a barbell) from the ground to overhead. The ways in which you do that are the snatch and the clean and jerk (the competition lifts). You have three attempts at each lift to get the most amount of weight overhead. Your result or score is determined by totaling the highest two successful lifts (snatch weight plus clean and jerk weight), within a bodyweight category. Susan Karon and Jill Eklund, Crossfit Sant Cruz Central long time members, both competed in Savannah Georgia this weekend at the 2012 National Masters Weightlifting Championships. It is an achievement in and of itself to step on the lifting platform and make a lift, let alone set a new U.S. Masters National snatch record as Susan did and only miss two lifts as Jill did. Months of preparation, traveling thousands of miles into an unfamiliar environment, and a crowd of people watching all add up to great pressure.  Susan and Jill's courage to step out under these circumstances and succeed is absolutely amazing. Great job ladies!
Workout:
F. Squat     KBS     Rope     Push Press     Box Jump     Dip      Toe  2 Bar    Run
    10           10          1               10                 10             3             10            200
    10           10          2               10                 10             5             10            200 
    10           10          3               10                 10             7             10            200
    10           10          2               10                 10             5             10            200
    10           10          1               10                 10             3             10            200
Programming: Shari
W
ellnessFX is visiting Santa Cruz next week to do lab draws so you can experience incredibly predictive diagnostics providing you with deep insights and personalized health recommendations. If you have any questions, please contact Gary, Helene or Annie.
Watch this quick 
video
 featuring MobilityWOD founder Kelly Starrett. Signup here to secure your spot: www.wellnessfx.com/crossfitbox/cfscc