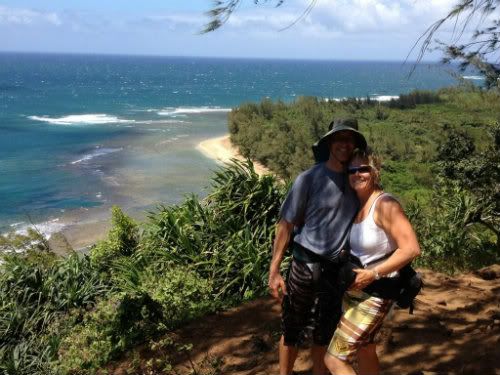 Holly and Scott Taylor (top photo) along with Tara and Nick Mucilli enjoy a little hike to Hanakapiai Beach, North Shore Kauai.
Congratulations to Alison Garcia for her first muscle up today! Workout:
15 minute running clock: Complete 5 thrusters (65/95) and 5 kettle bell swings, then run 100, 200, 300, or 400 meters, your choice of distance.  Repeat, but with 10 reps of thrusters and KBSs, then the next round 15 reps of each, then back to 10 reps, then finally 5 reps of each. If there is time left at this point, finish the remainder of the 15 minutes with muscle ups. Scoring: Points are allotted for the runs.  The 100m, 200m, 300m, and 400m runs are worth 1, 2, 3, and 4 points, respectively.  Points are doubled for each round if you complete the thrusters and KBSs of each round unbroken.  Muscle ups are worth 1 point each.
Programming: Josh
This fundraiser will help support the operating costs of St. Jude's Hospital, which services children with cancer and other deadly diseases.

Please help us support this important cause.