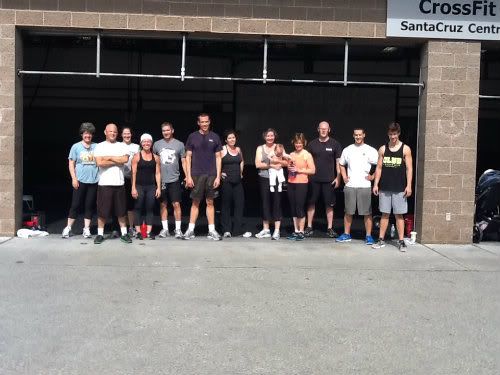 Some solid folks in this photo.
***Attention*** There will be no 6am or evening classes on The 4th. Happy 4th!
Separate the class into teams of four people.  Then four rounds of:
The teams start off each round with a relay sprint.  Each person runs fifty meters twice.  Once all four members have completed two runs, three of the teammates need to complete 15 KBSs, 15 reps of DB (30/40) bench press, and 15 GHD sit-ups, each.  The fourth teammate is a floater and can assist any of their teammates with their reps.  Each round a different teammate is the floater.  Each round is timed individually and there is a two minute break between rounds.  The scoring was a complicated mess involving such things as the first to finish each round and finishing subsequent rounds faster than previous ones, among other things.
Programming: Josh