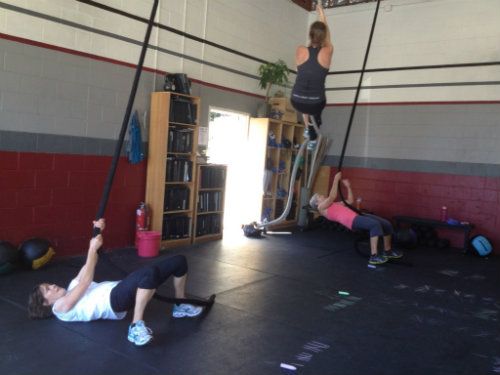 Great action shot mid rope climb.
***ATTENTION***
NO 6AM OR EVENING CLASSES ON LABOR DAY
Workout:
Two Teams:
800m relay – ½ of each team runs 800m, then tags the other ½ of their team who also run 800m
Record total time for each team to complete the relay.
Then Each team's Time at each of the following stations = the OTHER teams total 800m relay time
Station 1:  complete as many rope climbs – all team members may work at the same time
Station 2:  Prowler – move as much weight as possible 30m
Prowler weight and number of trips to be decided by the team – all team members may work at the same time.
Score: Total weight moved and total rope climbs.
Programming: Helene
If you have not already check out the Olympic Lifting Seminar we are hosting on October 6th (linked to the right of the page).  Annie and I both attended this seminar at Crossfit West a few months back and cannot recommend it enough.
This years affiliate cup will take place October 20th at Crossfit Santa Cruz, so start finding your team members!