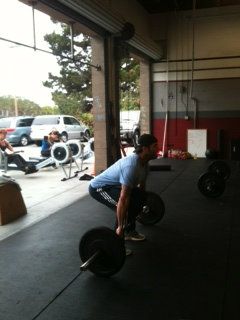 In order for the lift to go right, it has to start right. Dan making sure he has that covered in the all important "set up." Workout:
600m Run - 9 Cleans (65/95#)
400m Run - 11 Push Jerk
600m Row - 11 Power Cleans
400m Row - 9 Split Jerk
200m Run - 20 Clean and Jerk
Programming: Michele
Very interesting video on Continuous Chest Compression. Thank you Mary for sharing. Continuous Chest Compression CPR
Hey everyone. The Diamond in the Tough competition is in full swing. We have several members competing and many of them will make the final on Sept 29th.
The final is at CrossFit West Santa Cruz and we need volunteers! If you are interested, register here 
www.diamondofthetough.com
Volunteers get food, T-shirts and some really cool SWAG bags !