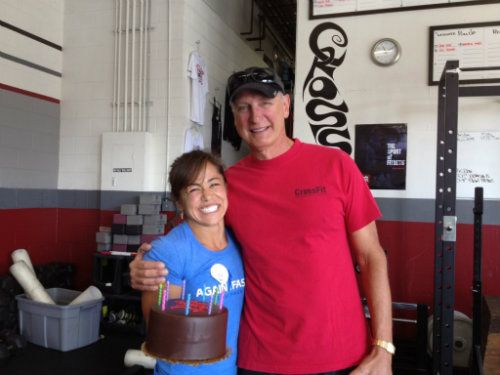 The man, the myth, the legend. Happy Birthday Jimmy Baker!Workout:
For Time:
Packet 1
30 shuttle runs
65 weighted lunges (20/30)
65 med-ball situps (8/14)
65 pushups
Packet 2
30 shuttle runs
30 weighted lunges
30 med-ball situps
30 pushups
Packet 3
30 shuttle runs
11 weighted lunges
11 med-ball situps
11 Pushups
Break up each "packet" of work into subsets any way you want but must complete a packet before moving on to the next.
Programming: Helene
Very interesting video on Continuous Chest Compression. Thank you Mary for sharing. Continuous Chest Compression CPR
Hey everyone. The Diamond in the Tough competition is in full swing. We have several members competing and many of them will make the final on Sept 29th.
The final is at CrossFit West Santa Cruz and we need volunteers! If you are interested, register here 
www.diamondofthetough.com
Volunteers get food, T-shirts and some really cool SWAG bags !