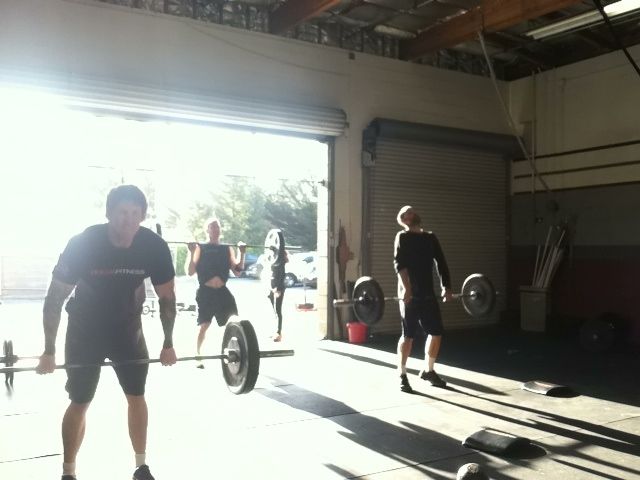 We had a similar shot a while back, coincidentally with two of the three same gents. Here's Skip moving through his hip to prep that extension, Ricardo is just about to reach full extension and Todd is almost finished the movement about to receive the bar. Workout:
Full 8 Round Tabata in each movement.  200 meter run between each tabata round. Ball Slam Kettlebell Swing Sit Up Hang Power Clean Prowler (15 yards = 1 rep) 
If you haven't heard already, Crossfit Santa Cruz Central's very own Rowena Arnold has moved in! That's right, and she's having an open house partay this week! Speaking from experience, there's no better place then the Derma Bella chair, that goes to all you guys out there too! See details about the open house below.

You're invited to an Open House Party!
Wednesday April 24th 6-8pm
Come take a tour and learn what Derma Bella Skin Studio is all about. Complimentary skin scope analysis and mini make up demo's. Huge prizes for raffle drawings including skin care, makeup and a Derma Bella Facial Treatment totalling over $500. It wouldn't be a party without Aldo's new gluten free cupcakes and some bubbly! No RSVP required. Bring a friend!