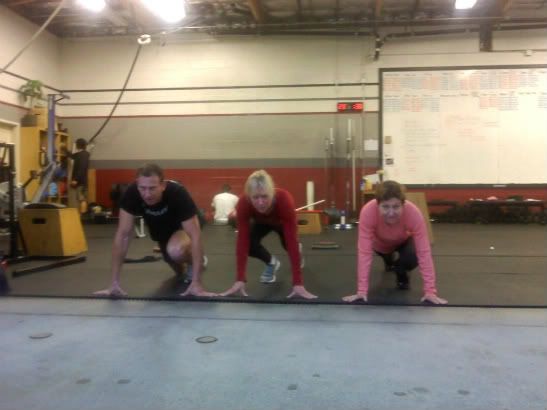 Morne, Debby and Flo locked and loaded at 6am. Workout:
Team A: runs 800  Team B: amrap of 5 burpee boxjumps 10 toes to bar Switch
Team A: runs 800m Team B: amrap of 10 lateral jumps, 10 med ball situps(8#,10#) Switch
Score is total reps completed by all individuals on the team All runners must be in before amrap team rests Fastest runners can get bonus pts for their team by completing WTD lunges (25#,35#) while they wait for their teammates to come in.  1 pt per two lunges
Programming: Helene
NO CLASS THIS SATURDAY THE 19TH
AT 11AM
Interested in Improving Performance?  Repairing Dysfunction?  Preventing Injury?  Treating Pain?  Check out the 

Trigger Point Therapy Certification

 happening this Saturday!  Sign up is linked to the right of page.