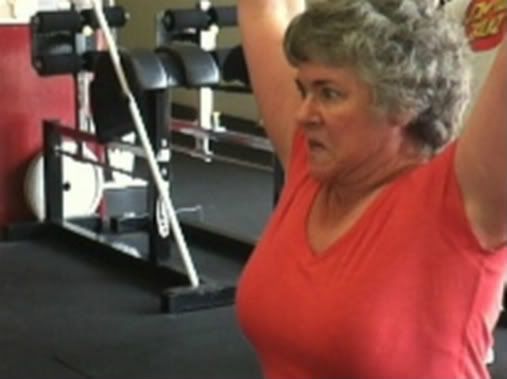 Determination, will and focus are the first three things that come to mind when looking at this picture of Sally locking out a Jerk. What is the first thing that comes to your mind? Party time! Next Saturday the 21st we will be celebrating Eva's induction into the Ski and Snowboard Hall of Fame. Join us at The Point Chophouse, 6p.m., for the festivities. Guaranteed to be a good time! Workout:
Every 30 seconds for 10 minutes complete:
1 Power Clean
1 Hang Power Clean
1 Jerk
Another Crossfit Football gem.
Programming: Gary
Jill McCormick, Physical Therapy director of SOL Santa Cruz will be running free movement pattern assessments with the FMS (Functional Movement Systems) protocol.  She will be in the gym Saturday, April 14th, sign ups are in the gym.  This is an amazing opportunity you do not want to miss out on.
"The FMS is a ranking and grading system that documents movement patterns that are key to normal function.  By screening these patterns, the FMS readily indentifies functional limitations and asymmetries.  These are issues that can reduce the effects of functional training, physical conditioning and distort body awareness."  - Jill McCormick