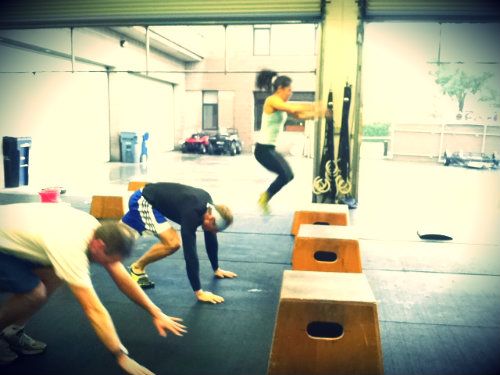 Drew, Chris and Annie work through their burpee box jumps.Everyone has heard about some Crossfiter's making the transition to the sport of weightlifting (olympic lifting). Have you heard yet about the other way around? Transitioning from weightlifting to Crossfit? Here's a video of a few top American weightlifters testing the waters. Workout:
Partner Workout:
100 Wall Ball (14/20#)
100 Tow To Bar
100 Burpee Box Jump
100 Push Ups or 50 HSPU
*Partner #1 completes wall balls while partner #2 runs 200 meters, switch and keeping alternating like that through each movement.
HOLIDAY SCHEDULE:
Monday, 12/24: 6:30am, 8am and 9:30am ONLY