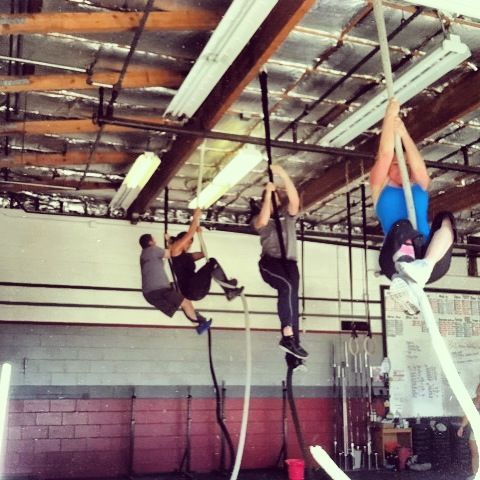 Jill, Leo, Priscilla and David all jamming up the rope in the very challenging 1 minute max Rope Climb.
Chad Vaughn Clean and Jerk *Watch the pull under in the clean, amazing!
Workout:
3 x 1 minute Max Rope Climb - 2 1/2 minute rest
15 minute AMRAP: Kettlebell Swing / Burpee Ladder 1-1, 2-2, 3-3, 4-4, 5-5  *Run 200 meters at minute 0, 3, 6, 9 and 12 
The Watrous's, two incredible members of the CSCC family are supporting a great cause this Wednesday night.  Here's a brief description of the event.
"Please join the Cisco Nor Cal team to help raise awareness and funds for a cause that matters to everyone. Mental illness.
One in four Americans is affected, and each of us has the ability to help.
That's why we're teaming up with our own Tim Watrous and his great band, the Groovenugget, for cocktails, dinner, and entertainment at Britannia Arms in San Jose.  Please see the attached document for information on the event.
Ten percent of the proceeds from the 
cash bar and restaurant

 and all of the proceeds from the 

silent auction

 will be donated to The National Alliance on Mental Illness. NAMI is the nation's largest grassroots mental health organization dedicated to building better lives for the millions of Americans affected by mental illness.
If you have items that you want to donate for the silent auction, send them to George Brown @ 1855 Silverwings Court Morgan Ca 95037
Can't make it to the event?
You can still donate!
Have fun for a great cause!!"