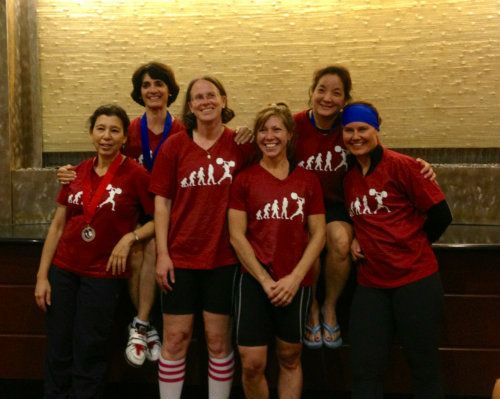 A memorable day yesterday at the 2012 American Masters weightlifting competition. Hopefully we can get more of the stories this week, but here are a few straight from the coach.Susan Karon broke her own national record with a 42kg snatch. After not making weight, Sharon Block did what she had to do to make weight, going on to complete her final clean and jerk after missing it in the previous attempt. Kelly Greco finished off some great lifting with a beautiful 57kg Clean and Jerk. Jill Eklund ended up with an impressive 90kg total. Miriam Allersma did what all weightlifters try to do, and went 6 for 6! Great job to the 5 girls who all succeeded in getting their totals. For the days results visit Masters Weightlifting Workout:
Ladder:
Run 400-200-400-200-400
DB Snatch 18-16-14-12-6
Double Unders 20-30-40-50-60
Burpee Pull Ups 2-4-6-8-10
Start at 400m run, then go to 18 Db Snatch - 20 DU - 2 Burpee pull up and back to run 200m.  Follow the same route until you finish the workout at 10 burpee pull ups.
Programming: Shari and Gary